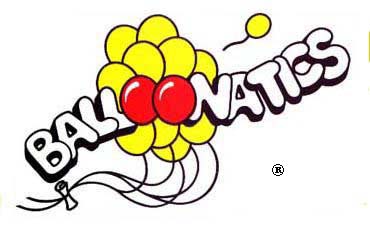 Weddings
Planning a wedding is a labor of love. Let our balloon artists help capture the essence of the happy couple with balloon decorations that are romantic, elegant and color-coordinated. We can create centerpieces, arches, entrance ways, bride and groom sculptures, and anything else you can imagine, either indoors or outside. We work with you to enhance your décor, and can coordinate with your dress, flowers, tableware and cake for a beautiful and distinctive look that you and your guests will remember forever.
Walk-through Wedding Heart
This balloon sculpture heart, covered with swirled balloons and twinkle lights, serves as an entrance piece at a wedding reception at the Bankers' Club in San Jose.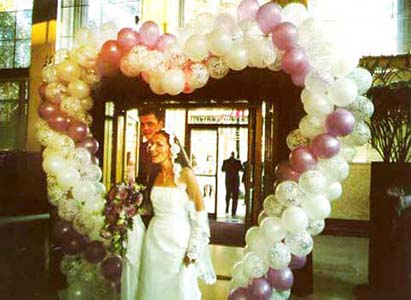 Pearl Bubble Arch
Outdoor wedding arch of 30" pearl white balloons with smaller mint green accent balloons serves as a background for the ceremony.
Bouncing String-of-Pearls Arch
This glistening white string-of-pearls style balloon arch visually frames the entire reception area for a wedding reception at a bay area hotel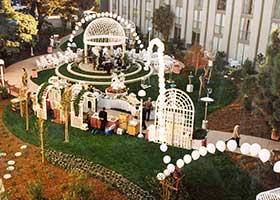 Interwoven Hearts
Interwoven hearts provide a beautiful and symbolic head table background for the bride & groom.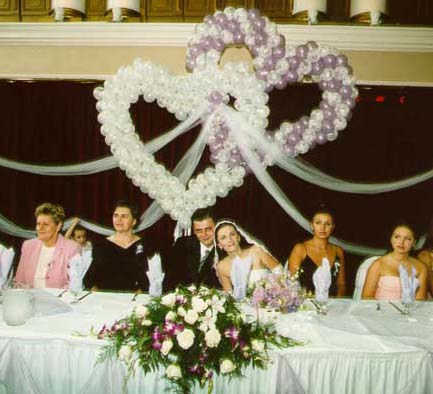 Jewel Wedding Centerpieces
Our wedding centerpieces are crafted to communicate both elegance and beauty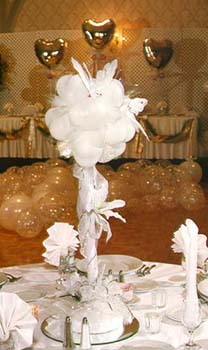 .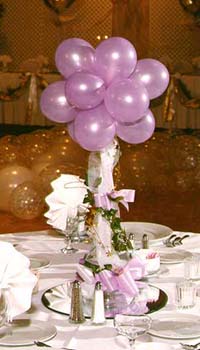 Trio of Glistening Hearts
Floating silver Mylar® hearts and flanking columns center attention on the wedding party at the head table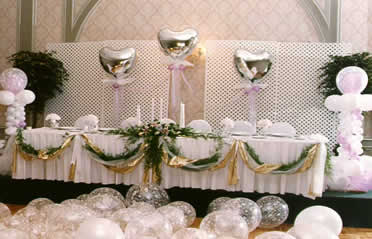 Dance Floor Decor
Balloonatics Magical Moments dance floor decorations using crystal and mint colored balloons visually unify this reception venue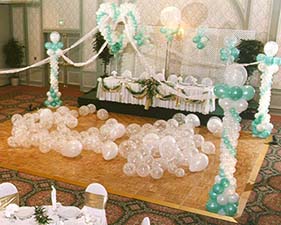 Mr and Mrs Centerpieces
Floating ivory bubbles emblazoned with "Mr" and "Mrs" serve as creative centerpieces at wedding receptions.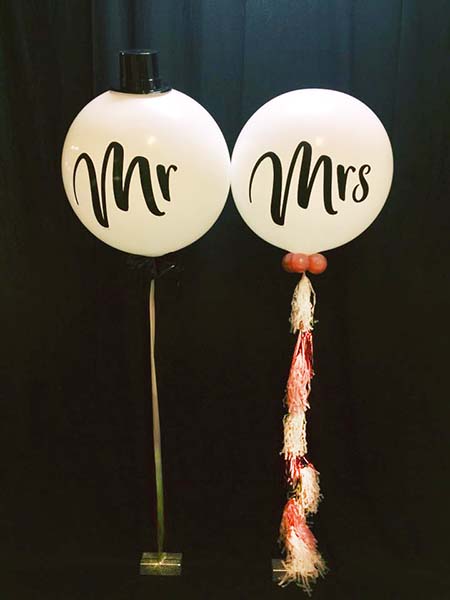 Suspended Heart Decoration
A five-foot high heart of swirled balloons with flowing tulle streamers is suspended in the center of this reception venue